I have a fairly long list of books to hopefully read this month as I have two series that I would like to read. Kingdom of Ash is coming out on the 23rd, I want to read the throne of glass series, and maybe have time for a few others as well!
Crown of Midnight
Crowned by Evil.
Bound by Duty.
Divided by Love.
Celaena Sardothien, royal assassin, is the King of Adarlan's deadliest weapon. She must win her freedom through his enemies' blood – but she cannot bear to kill for the crown. And every death Celaena fakes, every lie she tells, put those she loves at risk.
Torn between her two protectors – a captain and a prince – and battling a dark force far greater than the king, Celaena must decide what she will fight for: her liberty, her heart or the fate of a kingdom…
Heir of Fire
Consumed by guilt and rage, Celaena can't bring herself to spill blood for the King of Adarlan. She must fight back…
The Immortal Queen will help her destroy the king – for a price. But as Celaena battles with her darkest memories and her heart breaks for a love that could never last, can she fulfil the bargain and head the almighty court of Terrasen? And who will stand with her?
Queen of Shadows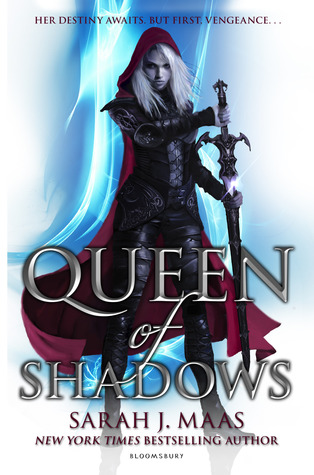 Everyone Celaena Sardothien loves has been taken from her. But she's at last returned to the empire—for vengeance, to rescue her once-glorious kingdom, and to confront the shadows of her past . . .
She will fight for her cousin, a warrior prepared to die just to see her again. She will fight for her friend, a young man trapped in an unspeakable prison. And she will fight for her people, enslaved to a brutal king and awaiting their lost queen's triumphant return.
Celaena's epic journey has captured the hearts and imaginations of millions across the globe.
Empire of Storms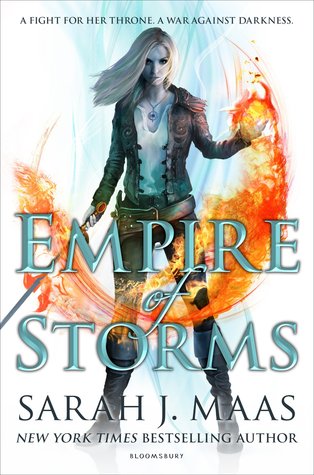 The long path to the throne has only just begun for Aelin Galathynius as war looms on the horizon. Loyalties have been broken and bought, friends have been lost and gained, and those who possess magic find themselves at odds with those who don't.
With her heart sworn to the warrior-prince by her side, and her fealty pledged to the people she is determined to save, Aelin will delve into the depths of her power to protect those she loves. But as monsters emerge from the horrors of the past, and dark forces become poised to claim her world, the only chance for salvation will lie in a desperate quest that may mark the end of everything Aelin holds dear.
Tower of Dawn
Chaol Westfall has always defined himself by his unwavering loyalty, his strength, and his position as the Captain of the Guard. But all of that has changed since the glass castle shattered, since his men were slaughtered, since the King of Adarlan spared him from a killing blow, but left his body broken.
His only shot at recovery lies with the legendary healers of the Torre Cesme in Antica—the stronghold of the southern continent's mighty empire. And with war looming over Dorian and Aelin back home, their survival might lie with Chaol and Nesryn convincing its rulers to ally with them.
But what they discover in Antica will change them both—and be more vital to saving Erilea than they could have imagined.
Kingdom of Ash
Aelin has risked everything to save her people―but at a tremendous cost. Locked within an iron coffin by the Queen of the Fae, Aelin must draw upon her fiery will as she endures months of torture. Aware that yielding to Maeve will doom those she loves keeps her from breaking, though her resolve begins to unravel with each passing day…
With Aelin captured, Aedion and Lysandra remain the last line of defence to protect Terrasen from utter destruction. Yet they soon realize that the many allies they've gathered to battle Erawan's hordes might not be enough to save them. Scattered across the continent and racing against time, Chaol, Manon, and Dorian are forced to forge their own paths to meet their fates. Hanging in the balance is any hope of salvation―and a better world.
And across the sea, his companions unwavering beside him, Rowan hunts to find his captured wife and queen―before she is lost to him forever.
As the threads of fate weave together at last, all must fight, if they are to have a chance at a future. Some bonds will grow even deeper, while others will be severed forever in the explosive final chapter of the Throne of Glass series.
Half Bad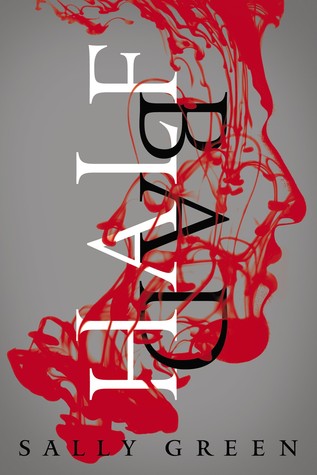 Sixteen-year-old Nathan lives in a cage: beaten, shackled, trained to kill. In a modern-day England where two warring factions of witches live amongst humans, Nathan is an abomination, the illegitimate son of the world's most terrifying and violent witch, Marcus. Nathan's only hope for survival is to escape his captors, track down Marcus, and receive the three gifts that will bring him into his own magical powers—before it's too late. But how can Nathan find his father when there is no one safe to trust, not even family, not even the girl he loves?
Half Wild
In a modern-day England where two warring factions of witches live amongst humans, seventeen-year-old Nathan is an abomination, the illegitimate son of the world's most powerful and violent witch. Nathan is hunted from all sides: nowhere is safe and no one can be trusted. Now, Nathan has come into his own unique magical Gift, and he's on the run–but the Hunters are close behind, and they will stop at nothing until they have captured Nathan and destroyed his father
Half Lost
The Alliance is losing the war, and their most critical weapon, seventeen-year-old witch Nathan Byrn, is losing his mind. Nathan's tally of kills is rising, and yet he's no closer to ending the tyrannical rule of the Council of White Witches in England. Nor is Nathan any closer to his personal goal: getting revenge on Annalise, the girl he once loved before she committed an unthinkable crime. An amulet protected by the extremely powerful witch Ledger could be the tool Nathan needs to save himself and the Alliance, but this amulet is not so easily acquired. And lately Nathan has started to suffer from visions: a vision of a golden moment when he dies, and of an endless line of Hunters, impossible to overcome. Gabriel, his closest companion, urges Nathan to run away with him, to start a peaceful life together. But even Gabriel's love may not be enough to save Nathan from this war, or from the person he has become.
The Colonel and The Bee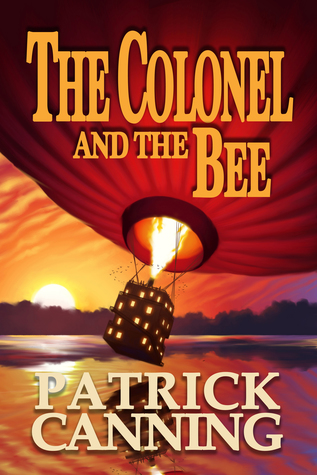 A peculiar explorer and downtrodden acrobat span the globe on a building-sized hot air balloon, in search of a precious artefact and the murderous treasure hunter who seeks it.
Beatrix, a spirited but abused acrobat in a travelling circus, seeks more than her prison-like employment offers. More than anything, she wants to know her place in the world of the halcyon 19th century, a time when the last dark corners of the map were being sketched out and travel still possessed a kind of magic.
One night in Switzerland, the mysterious Colonel James Bacchus attends Beatrix's show. This larger-than-life English gentleman, reputed to have a voracious appetite for female conquests, is most notable for travelling the world in a four-story hot air balloon called The Ox.
Happier Thinking
Changing how you think is possible. I wasn't always so sure that was true until I experienced it myself, but I know now we don't have to just accept unhappiness. Not always anyway. This book is my collection of tips and suggestions that have helped me achieve happier thinking. It's sort of a gym for my mind. I'd love to tell you it was easier than the real gym but well… it's not really. It takes time, effort, and practice but it's absolutely well worth the rewards.