I had quite a productive month this September, so let's see what I read and what I thought of them.
City of Ashes
Clary Fray just wishes that her life would go back to normal. But what's normal when you're a demon-slaying Shadowhunter, your mother is in a magically induced coma, and you can suddenly see Downworlders like werewolves, vampires, and faeries? If Clary left the world of the Shadowhunters behind, it would mean more time with her best friend, Simon, who's becoming more than a friend. But the Shadowhunting world isn't ready to let her go — especially her handsome, infuriating, newfound brother, Jace. And Clary's only chance to help her mother is to track down rogue Shadowhunter Valentine, who is probably insane, certainly evil — and also her father.
To complicate matters, someone in New York City is murdering Downworlder children. Is Valentine behind the killings — and if he is, what is he trying to do? When the second of the Mortal Instruments, the Soul-Sword, is stolen, the terrifying Inquisitor arrives to investigate and zooms right in on Jace. How can Clary stop Valentine if Jace is willing to betray everything he believes in to help their father?
City of Glass
To save her mother's life, Clary must travel to the City of Glass, the ancestral home of the Shadowhunters – never mind that entering the city without permission is against the Law, and breaking the Law could mean death. To make things worse, she learns that Jace does not want her there, and Simon has been thrown in prison by the Shadowhunters, who are deeply suspicious of a vampire who can withstand sunlight.
As Clary uncovers more about her family's past, she finds an ally in mysterious Shadowhunter Sebastian. With Valentine mustering the full force of his power to destroy all Shadowhunters forever, their only chance to defeat him is to fight alongside their eternal enemies. But can Downworlders and Shadowhunters put aside their hatred to work together? While Jace realizes exactly how much he's willing to risk for Clary, can she harness her newfound powers to help save the Glass City – whatever the cost?
A Clash of Kings
Time is out of joint. The summer of peace and plenty, ten years long, is drawing to a close, and the harsh, chill winter approaches like an angry beast. Two great leaders—Lord Eddard Stark and Robert Baratheon—who held sway over an age of enforced peace are dead…victims of royal treachery. Now, from the ancient citadel of Dragonstone to the forbidding shores of Winterfell, chaos reigns, as pretenders to the Iron Throne of the Seven Kingdoms prepare to stake their claims through tempest, turmoil, and war.
As a prophecy of doom cuts across the sky—a comet the colour of blood and flame—six factions struggle for control of a divided land. Eddard's son Robb has declared himself King in the North. In the south, Joffrey, the heir apparent, rules in name only, victim of the scheming courtiers who teem over King's Landing. Robert's two brothers each seek their own dominion, while a disfavored house turns once more to conquest. And a continent away, an exiled queen, the Mother of Dragons, risks everything to lead her precious brood across a hard hot desert to win back the crown that is rightfully hers.
Clockwork Angel
When sixteen-year-old Tessa Gray crosses the ocean to find her brother, her destination is England, the time is the reign of Queen Victoria, and something terrifying is waiting for her in London's Downworld, where vampires, warlocks and other supernatural folk stalk the gaslit streets. Only the Shadowhunters, warriors dedicated to ridding the world of demons, keep order amidst the chaos.
Kidnapped by the mysterious Dark Sisters, members of a secret organization called The Pandemonium Club, Tessa soon learns that she herself is a Downworlder with a rare ability: the power to transform, at will, into another person. What's more, the Magister, the shadowy figure who runs the Club, will stop at nothing to claim Tessa's power for his own.
City of Fallen Angels
Simon, Daylighter vampire teen is protected by the Mark of Cain, a pillar of fire from Heaven blazes attackers into salt, but an enemy gets at him through his first love Clary, who must face consequences, and maybe lose Jace. A Greater Demon infects nights of her Shadowhunter beloved for control, and sends grey-garbed minions for Simon himself.
Clockwork Prince
In the magical underworld of Victorian London, Tessa Gray has at last found safety with the Shadowhunters. But that safety proves fleeting when rogue forces in the Clave plot to see her protector, Charlotte, replaced as head of the Institute. If Charlotte loses her position, Tessa will be out on the street—and easy prey for the mysterious Magister, who wants to use Tessa's powers for his own dark ends.
With the help of the handsome, self-destructive Will and the fiercely devoted Jem, Tessa discovers that the Magister's war on the Shadowhunters is deeply personal. He blames them for a long-ago tragedy that shattered his life. To unravel the secrets of the past, the trio journeys from mist-shrouded Yorkshire to a manor house that holds untold horrors, from the slums of London to an enchanted ballroom where Tessa discovers that the truth of her parentage is more sinister than she had imagined. When they encounter a clockwork demon bearing a warning for Will, they realize that the Magister himself knows their every move—and that one of their own has betrayed them.
Tessa finds her heart drawn more and more to Jem, but her longing for Will, despite his dark moods, continues to unsettle her. But something is changing in Will—the wall he has built around himself is crumbling. Could finding the Magister free Will from his secrets and give Tessa the answers about who she is and what she was born to do?
As their dangerous search for the Magister and the truth leads the friends into peril, Tessa learns that when love and lies are mixed, they can corrupt even the purest heart.
A Storm of Swords
Of the five contenders for power, one is dead, another in disfavour, and still the wars rage as alliances are made and broken. Joffrey sits on the Iron Throne, the uneasy ruler of the Seven Kingdoms. His most bitter rival, Lord Stannis, stands defeated and disgraced, victim of the sorceress who holds him in her thrall. Young Robb still rules the North from the fortress of Riverrun. Meanwhile, making her way across a blood-drenched continent is the exiled queen, Daenerys, mistress of the only three dragons still left in the world. And as opposing forces manoeuver for the final showdown, an army of barbaric wildlings arrives from the outermost limits of civilization, accompanied by a horde of mythical Others—a supernatural army of the living dead whose animated corpses are unstoppable. As the future of the land hangs in the balance, no one will rest until the Seven Kingdoms have exploded in a veritable storm of swords…
City of Lost Souls
What price is too high to pay, even for love? When Jace and Clary meet again, Clary is horrified to discover that the demon Lilith's magic has bound her beloved Jace together with her evil brother Sebastian, and that Jace has become a servant of evil. The Clave is out to destroy Sebastian, but there is no way to harm one boy without destroying the other. As Alec, Magnus, Simon, and Isabelle wheedle and bargain with Seelies, demons, and the merciless Iron Sisters to try to save Jace, Clary plays a dangerous game of her own. The price of losing is not just her own life, but Jace's soul. She's willing to do anything for Jace, but can she still trust him? Or is he truly lost?
Clockwork Princess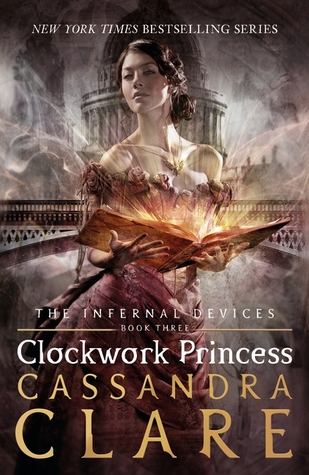 A net of shadows begins to tighten around the Shadowhunters of the London Institute. Mortmain plans to use his Infernal Devices, an army of pitiless automatons, to destroy the Shadowhunters. He needs only one last item to complete his plan: he needs Tessa Gray.
Charlotte Branwell, head of the London Institute, is desperate to find Mortmain before he strikes. But when Mortmain abducts Tessa, the boys who lay equal claim to her heart, Jem and Will, will do anything to save her. For though Tessa and Jem are now engaged, Will is as much in love with her as ever.
As those who love Tessa rally to rescue her from Mortmain's clutches, Tessa realizes that the only person who can save her is herself. But can a single girl, even one who can command the power of angels, face down an entire army?
City of Heavenly Fire
In this dazzling and long-awaited conclusion to the acclaimed Mortal Instruments series, Clary and her friends fight the greatest evil they have ever faced: Clary's own brother.
Sebastian Morgenstern is on the move, systematically turning Shadowhunter against Shadowhunter. Bearing the Infernal Cup, he transforms Shadowhunters into creatures out of a nightmare, tearing apart families and lovers as the ranks of his Endarkened army swell.
The embattled Shadowhunters withdraw to Idris – but not even the famed demon towers of Alicante can keep Sebastian at bay. And with the Nephilim trapped in Idris, who will guard the world against demons?
Blind Faith
Imagine a world where everyone knows everything about everybody. Where 'sharing' is valued above all, and privacy is considered a dangerous perversion.
Trafford wouldn't call himself a rebel, but he's daring to be different, to stand out from the crowd. In his own small ways, he wants to push against the system. But in this world, uniformity is everything. And even tiny defiances won't go unnoticed.
Ben Elton's dark, savagely comic novel imagines a post-apocalyptic society where religious intolerance combines with a sex-obsessed, utterly egocentric culture. In this world, nakedness is modesty, independent thought subversive, and ignorance is wisdom.
An Absolutely Remarkable Thing
The Carls just appeared. Coming home from work at three a.m., twenty-three-year-old April May stumbles across a giant sculpture. Delighted by its appearance and craftsmanship–like a ten-foot-tall Transformer wearing a suit of samurai armour–April and her friend Andy make a video with it, which Andy uploads to YouTube. The next day April wakes up to a viral video and a new life. News quickly spreads that there are Carls in dozens of cities around the world–everywhere from Beijing to Buenos Aires–and April, as their first documentarian, finds herself at the centre of an intense international media spotlight.
Now April has to deal with the pressure on her relationships, her identity, and her safety that this new position brings, all while being on the front lines of the quest to find out not just what the Carls are, but what they want from us.
Weird Things Customers Say in Bookshops
This simple Twitter question posed by John Cleese inspired bookseller Jen Campbell to start a blog collecting all the ridiculous conversations overheard in her bookstore, everything from "Did Beatrix Potter ever write a book about dinosaurs?" to "Did Charles Dickens ever write anything fun?" Anyone who has ever worked in retail will nod knowingly at requests like "I've forgotten my glasses, can you read me the first chapter?" Or the absurdity of questions like "Excuse me . . . is this book edible?"
Filled with fun and quirky illustrations by the award-winning Brothers McLeod and featuring contributions from booksellers across the United States and Canada, as well as the author's native UK, Weird Things Customers Say in Bookstores is a celebration of bookstores, large and small, and of the brilliant booksellers who toil in those literary fields, as well as the myriad of colorful characters that walk through the doors everyday. This irresistible collection is proof positive that booksellers everywhere are heroes.
The Assassin's Blade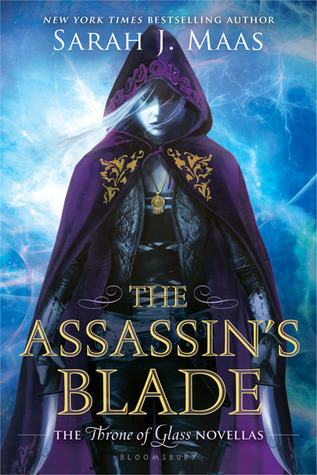 Read the Review Here
Celaena Sardothien is Adarlan's most feared assassin. As part of the Assassin's Guild, her allegiance is to her master, Arobynn Hamel, yet Celaena listens to no one and trusts only her fellow killer-for-hire, Sam. In these action-packed novellas – together in one edition for the first time – Celaena embarks on five daring missions. They take her from remote islands to hostile deserts, where she fights to liberate slaves and seeks to avenge the tyrannous. But she is acting against Arobynn's orders and could suffer an unimaginable punishment for such treachery. Will Celaena ever be truly free? Explore the dark underworld of this kick-ass heroine to find out.