For those who read my weekly updates, you will know that I have recently read the Grisha Trilogy by Leigh Bardugo and I wanted to share with you my thoughts on each book and the series.
Shadow and Bone
I raced through this book, but not because it was good, it was because I didn't care enough to slow down and reading properly. For me the end point of the book was a good starting point for the story, it was like a prequel.
The characters in this book were flat and two dimensional. They seemed to have no goals or dreams to motivate them. They seemed to do whatever they were told with no thought for themselves. The obvious villain (though they pretended otherwise) was the only interesting character who actually thought for themselves.
The 'magic' system in this book was never properly explained, which left the plot hanging as I tried to work out what was going on. I also felt that half of the plot twists were seen a mile off, leaving no surprises for the reader. I hope the rest of the series gets better soon.
Siege and Storm
This book was more interesting than the first one as we finally had some conflict and independent character motivation. The introduction of the lovely Stormhund was much appreciated and livened up the plot. He quickly became my favourite character and made the book worth reading.
The overall quest for an army and control was quite boring and only served to show how much Stormhund was needed to liven up proceedings. I did feel though that the magic system was further developed but still was a little unclear.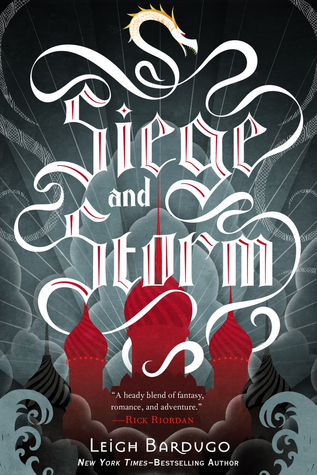 Ruin and Rising
Finally, this series is over! I was annoyed by the resolution of the plot. It was very unsatisfactory and left me feeling that the whole thing was a complete waste of time. I felt that from start to finish we were chasing our tail in slow motion, doing something pointless but also painfully slowly.
The great journey into the characters past was not very exciting or revealing. I felt conned and that I was wasting my time. I was however pleased with the epilogue and was glad to see the characters doing something that was natural to them after all they had been through.
Overall Thoughts
I thought that this series was mediocre and not worth re-reading but was worth using to introduced myself to the Grishaverse, in preparation for Six of Crows.