In a continuation of the Grisha Verse, and in some ways a sequel to last week's Grisha Trilogy Post, I am sharing my thoughts on the Six of Crows Duology by Leigh Bardugo.
Six of Crows
Synopsis
Ketterdam: a bustling hub of international trade where anything can be had for the right price—and no one knows that better than criminal prodigy Kaz Brekker. Kaz is offered a chance at a deadly heist that could make him rich beyond his wildest dreams. But he can't pull it off alone. . . .
A convict with a thirst for revenge

A sharpshooter who can't walk away from a wager

A runaway with a privileged past

A spy known as the Wraith

A Heartrender using her magic to survive the slums

A thief with a gift for unlikely escapes
Kaz's crew is the only thing that might stand between the world and destruction—if they don't kill each other first.
Review
I really loved this book, as the characters were just incredible. I found that they were easy to love and empathise with. The fact that we got POV chapters from most of them allowed us to understand and agree with all of their contradictory ideas and worldviews. I felt that it added depth to the world in general and helped to humanise some of the villains of the other series.
The plot, however, felt a bit strange. I felt that the general idea was mediocare at best and the bullet point plot was lacking. I did think that the way Kaz's responses to these situations was ingenious but the setbacks were a bit too predictable.
I thought that the world building in this story was fantastic, though I did prefer Ketterdam to the Ice Court and Fjerda as the latter were a bit bland by comparison.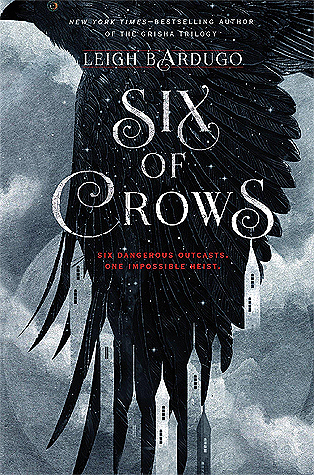 Crooked Kingdom
Synopsis
Kaz Brekker and his crew of deadly outcasts have just pulled off a heist so daring even they didn't think they'd survive. But instead of divvying up a fat reward, they're right back to fighting for their lives.
Double-crossed and badly weakened, the crew is low on resources, allies, and hope. As powerful forces from around the world descend on Ketterdam to root out the secrets of the dangerous drug known as jurda parem, old rivals and new enemies emerge to challenge Kaz's cunning and test the team's fragile loyalties.
A war will be waged on the city's dark and twisting streets – a battle for revenge and redemption that will decide the fate of the Grisha world.
Review
I didn't quite enjoy this book as much as the first one, as the plot felt like it was playing for time. While I thought that the things that did happen in this book were interesting to read, I felt that 90% of this book was side quests that had only a minor contribution to the main plot.
Having said that, being in Ketterdam for most of the book was very enjoyable as it felt so vibrant and dangerous from the first page. Spending more time with the crew made it all the better as they are a joy to read. It was also nice to see some of my favourite faces from the original Grisha Trilogy appearing now and then.
Overall I thought this was the worst book out of the two, but the overall series was incredible. I hope to spend more time with these characters soon (though I am aware that there are no current plans to do so).