I haven't done one of these for a while, but I have recently planned a lot of blog posts which require me to read certain books (usually I review what I read as and when I read). I thought that I would share the next few books that I will be reading (and yes you can see this as a glimpse of what I will be posting in the near-ish future).
Crown of Feathers by Nicki Pau Preto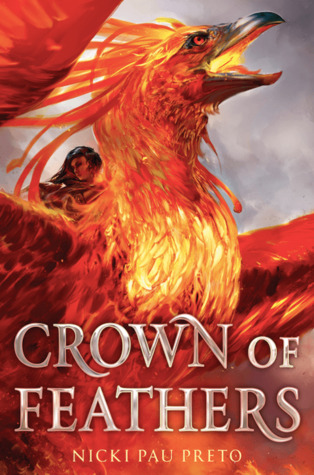 I had a sister, once…
In a world ruled by fierce warrior queens, a grand empire was built upon the backs of Phoenix Riders—legendary heroes who soared through the sky on wings of fire—until a war between two sisters ripped it all apart.
I promised her the throne would not come between us.
Sixteen years later, Veronyka is a war orphan who dreams of becoming a Phoenix Rider from the stories of old. After a shocking betrayal from her controlling sister, Veronyka strikes out alone to find the Riders—even if that means disguising herself as a boy to join their ranks.
But it is a fact of life that one must kill or be killed. Rule or be ruled.
Just as Veronyka finally feels like she belongs, her sister turns up and reveals a tangled web of lies between them that will change everything. And meanwhile, the new empire has learned of the Riders' return and intends to destroy them once and for all.
Sometimes the title of queen is given. Sometimes it must be taken.
This is a review copy that I have received for free in return for an honest review.
Collection of Negatives by Violet St. Karl
FACT: 15% of the world's population is Rh-negative and the origin of their blood is debated.
In a world with skyrocketing inflation and unemployment, blood has become the new commodity, and the rarer your blood type, the more it's worth.
After losing her job and watching her savings dwindle, Liri is persuaded by a resourceful friend to sell her blood to ABO Blood Group, where she learns she is O Negative, the most valuable and sought after blood.
Unable to afford living in New York City, Liri reluctantly decides to move back home and live with her parents, but her plan is interrupted when a virus is maliciously unleashed onto the island of Manhattan, resulting in a citywide quarantine. Before being able to devise an alternative plan, she is secretly informed of a covert mission by ABO to evacuate Negatives out of NYC. Although reluctant to trust them, it's her only viable choice to escape, but unbeknown to Liri, she and the Negatives are vital to activating opposing agendas on Earth and beyond.
This is a review copy that I have received for free in return for an honest review. I am also on the blog tour for this book.
Minimalism: Live a Meaningful Life by Joshua Fields Millburn and Ryan Nicodemus
Minimalism: Live a Meaningful Life is our finest, most important creation to date. It's also the best thing we've ever written about Minimalism and will likely serve as the cornerstone to our work for years to come. It took us a year to write this book—a year of creating the best material possible and finding ways to relate it back to our lives so you would have practical ways to relate the subject matter to your life.
Dread Nation by Justina Ireland
Jane McKeene was born two days before the dead began to walk the battlefields of Gettysburg and Chancellorsville—derailing the War Between the States and changing America forever. In this new nation, safety for all depends on the work of a few, and laws like the Native and Negro Reeducation Act require certain children attend combat schools to learn to put down the dead. But there are also opportunities—and Jane is studying to become an Attendant, trained in both weaponry and etiquette to protect the well-to-do. It's a chance for a better life for Negro girls like Jane. After all, not even being the daughter of a wealthy white Southern woman could save her from society's expectations.
But that's not a life Jane wants. Almost finished with her education at Miss Preston's School of Combat in Baltimore, Jane is set on returning to her Kentucky home and doesn't pay much mind to the politics of the eastern cities, with their talk of returning America to the glory of its days before the dead rose. But when families around Baltimore County begin to go missing, Jane is caught in the middle of a conspiracy, one that finds her in a desperate fight for her life against some powerful enemies. And the restless dead, it would seem, are the least of her problems.
Ever Alice by H. J. Ramsay
Alice's stories of Wonderland did more than raise a few eyebrows—it landed her in an asylum. Now at 15 years of age, she's willing to do anything to leave, which includes agreeing to an experimental procedure. When Alice decides at the last minute not to go through with it, she escapes with the White Rabbit to Wonderland and trades one mad house for another: the court of the Queen of Hearts. Only this time, she is under orders to take out the Queen. When love, scandal, and intrigue begin to muddle her mission, Alice finds herself on the wrong side of the chopping block.
This is a review copy that I have received for free in return for an honest review.
Legend by Marie Lu
From different worlds, June and Day have no reason to cross paths…
Until June's brother is murdered, and Day becomes the prime suspect.
In a shocking turn of events, the two uncover what has really brought them together, and the sinister lengths to which their country will go to keep its secrets.
Prodigy by Marie Lu
Injured and on the run, it has been seen days since June and Day barely escaped Los Angeles and the Republic with their lives. Day is believed dead having lost his own brother to an execution squad who thought they were assassinating him. June is now the Republic's most wanted traitor. Desperate for help, they turn to the Patriots – a vigilante rebel group sworn to bring down the Republic. But can they trust them or have they unwittingly become pawns in the most terrifying of political games?
Champion by Marie Lu
June and Day have sacrificed so much for the people of the Republic—and each other—and now their country is on the brink of a new existence. June is back in the good graces of the Republic, working within the government's elite circles as Princeps-Elect, while Day has been assigned a high-level military position.
But neither could have predicted the circumstances that will reunite them: just when a peace treaty is imminent, a plague outbreak causes panic in the Colonies, and war threatens the Republic's border cities. This new strain of plague is deadlier than ever, and June is the only one who knows the key to her country's defense. But saving the lives of thousands will mean asking the one she loves to give up everything.