It's the start of the month, so here's my TBR for the month. Some of these will be repeated from last month, but I promise they will get read this month!
Champion by Marie Lu
He is a Legend.

She is a Prodigy.

Who will be Champion?
June and Day have sacrificed so much for the people of the Republic—and each other—and now their country is on the brink of a new existence. June is back in the good graces of the Republic, working within the government's elite circles as Princeps-Elect, while Day has been assigned a high-level military position. 
But neither could have predicted the circumstances that will reunite them: just when a peace treaty is imminent, a plague outbreak causes panic in the Colonies, and war threatens the Republic's border cities. This new strain of plague is deadlier than ever, and June is the only one who knows the key to her country's defense. But saving the lives of thousands will mean asking the one she loves to give up everything. 
Dread Nation by Justina Ireland
Jane McKeene was born two days before the dead began to walk the battlefields of Gettysburg and Chancellorsville—derailing the War Between the States and changing America forever. In this new nation, safety for all depends on the work of a few, and laws like the Native and Negro Reeducation Act require certain children attend combat schools to learn to put down the dead. But there are also opportunities—and Jane is studying to become an Attendant, trained in both weaponry and etiquette to protect the well-to-do. It's a chance for a better life for Negro girls like Jane. After all, not even being the daughter of a wealthy white Southern woman could save her from society's expectations.
But that's not a life Jane wants. Almost finished with her education at Miss Preston's School of Combat in Baltimore, Jane is set on returning to her Kentucky home and doesn't pay much mind to the politics of the eastern cities, with their talk of returning America to the glory of its days before the dead rose. But when families around Baltimore County begin to go missing, Jane is caught in the middle of a conspiracy, one that finds her in a desperate fight for her life against some powerful enemies. And the restless dead, it would seem, are the least of her problems.
Readymade Bodhisattva by Sunyoung Park
Readymade Bodhisattva: The Kaya Anthology of South Korean Science Fiction presents the first book-length English-language translation of science and speculative fiction from South Korea, bringing together 13 classic and contemporary stories from the 1960s through the 2010s. From the reimagining of an Asimovian robot inside the walls of a Buddhist temple and a postapocalyptic showdown between South and North Korean refugees on a faraway planet to a fictional recollection of a disabled woman's struggle to join an international space mission, these stories showcase the thematic and stylistic versatility of South Korean science-fiction writers in its wide array. At once conversant with the global science-fiction tradition and thick with local historical specificities, their works resonate with other popular cultural products of South Korea―from K-pop and K-drama to videogames, which owe part of their appeal to their pulsating technocultural edge and their ability to play off familiar tropes in unexpected ways.
Coming from a country renowned for its hi-tech industry and ultraspeed broadband yet mired in the unfinished Cold War, South Korean science fiction offers us fresh perspectives on global technoindustrial modernity and its human consequences. The book also features a critical introduction, an essay on SF fandom in South Korea, and contextualizing information and annotations for each story.
Codename Villanelle by Luke Jennings
Villanelle (a codename, of course) is one of the world's most skilled assassins. A catlike psychopath whose love for the creature comforts of her luxurious lifestyle is second only to her love of the game, she specializes in murdering the world's richest and most powerful. But when she murders an influential Russian politician, she draws a relentless foe to her tail.
Eve Polastri (not a codename) is a former MI6 operative hired by the national security services for a singular task: to find and capture or kill the assassin responsible, and those who have aided her. Eve, whose quiet and otherwise unextraordinary life belies her quick wit and keen intellect, accepts the mission. 
The ensuing chase will lead them on a trail around the world, intersecting with corrupt governments and powerful criminal organizations, all leading towards a final confrontation from which neither will emerge unscathed. 
Dear Evan Hansen by Val Emmich, Steven Levenson, Benj Pasek and Justin Paul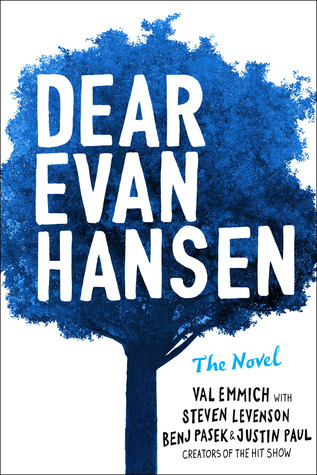 Dear Evan Hansen,

Today's going to be an amazing day and here's why…
When a letter that was never meant to be seen by anyone draws high school senior Evan Hansen into a family's grief over the loss of their son, he is given the chance of a lifetime: to belong. He just has to stick to a lie he never meant to tell, that the notoriously troubled Connor Murphy was his secret best friend.
Suddenly, Evan isn't invisible anymore–even to the girl of his dreams. And Connor Murphy's parents, with their beautiful home on the other side of town, have taken him in like he was their own, desperate to know more about their enigmatic son from his closest friend. As Evan gets pulled deeper into their swirl of anger, regret, and confusion, he knows that what he's doing can't be right, but if he's helping people, how wrong can it be?
No longer tangled in his once-incapacitating anxiety, this new Evan has a purpose. And a website. He's confident. He's a viral phenomenon. Every day is amazing. Until everything is in danger of unraveling and he comes face to face with his greatest obstacle: himself.