So, exam season is officially over, and to celebrate I bought myself a few books with a voucher that I had been saving. Most of these are books I want to take to YALC with me, so you will be hearing (reading?) more about them soon. Let's get into it:
The Priory of the Orange Tree by Samantha Shannon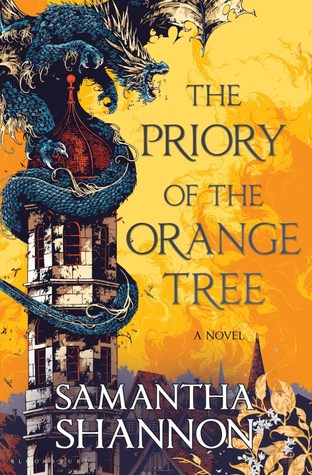 A world divided.
A queendom without an heir.
An ancient enemy awakens.
The House of Berethnet has ruled Inys for a thousand years. Still unwed, Queen Sabran the Ninth must conceive a daughter to protect her realm from destruction—but assassins are getting closer to her door.
Ead Duryan is an outsider at court. Though she has risen to the position of lady-in-waiting, she is loyal to a hidden society of mages. Ead keeps a watchful eye on Sabran, secretly protecting her with forbidden magic.
Across the dark sea, Tané has trained all her life to be a dragonrider, but is forced to make a choice that could see her life unravel.
Meanwhile, the divided East and West refuse to parley, and forces of chaos are rising from their sleep.
I've wanted to read this book for a while, especially given the love I have seen others give it. I am really looking forward to reading it.
Viper by Bex Hogan
He will make me a killer. Or he will have me killed. That is my destiny.
Seventeen-year-old Marianne is fated to one day become the Viper, defender of the Twelve Isles.
But the reigning Viper stands in her way. Corrupt and merciless, he prowls the seas in his warship, killing with impunity, leaving only pain and suffering in his wake.
He's the most dangerous man on the ocean . . . and he is Marianne's father.
She was born to protect the islands. But can she fight for them if it means losing her family, her home, the boy she loves – and perhaps even her life?
Look at that cover! It's so beautiful! As I am sure you know, I love fantasy novels, and have heard great things about this one, so thought that it couldn't hurt to give it a read. I am also grateful for the fact that it is very slim, given the size of Priory and the fact that I want to have read both of them before YALC.
A Good Girl's Guide to Murder by Holly Jackson
The case is closed. Five years ago, schoolgirl Andie Bell was murdered by Sal Singh. The police know he did it. Everyone in town knows he did it.
But having grown up in the same small town that was consumed by the murder, Pippa Fitz-Amobi isn't so sure. When she chooses the case as the topic for her final year project, she starts to uncover secrets that someone in town desperately wants to stay hidden. And if the real killer is still out there, how far will they go to keep Pip from the truth?
Having read the sampler of this book and loved it, I was very excited to be finally able to get my hands on the whole book. Obviously I still need to finish the books I bought from YALC last year (read about those here), but having it on my shelf makes me one step closer to reading it!
No One Is Too Small To Make a Difference by Greta Thunberg
The history-making, ground-breaking speeches of Greta Thunberg, the young activist who has become the voice of a generation
'Everything needs to change. And it has to start today'
In August 2018 a fifteen-year-old Swedish girl, Greta Thunberg, decided not to go to school one day. Her actions ended up sparking a global movement for action against the climate crisis, inspiring millions of pupils to go on strike for our planet, forcing governments to listen, and earning her a Nobel Peace Prize nomination.
This book brings you Greta in her own words, for the first time. Collecting her speeches that have made history across Europe, from the UN to mass street protests, No One Is Too Small to Make A Difference is a rallying cry for why we must all wake up and fight to protect the living planet, no matter how powerless we feel. Our future depends upon it.
I picked up this little book last minute, but think it will be a really inspiring read. Having listened to some of her speeches online, and trying to be environmentally friendly myself, I think that this will be a good read.