I have to admit that I haven't been reading as regularly as I wanted to this week, but with a bit of time on dedicated to it, I have managed to catch up with some shorter books at the end of the week.
Books I've Read
Double Cross
Tobey wants a better life – for him and his girlfriend Callie Rose. He wants nothing to do with the gangs that rule the world he lives in. But when he's offered the chance to earn some money just for making a few 'deliveries', just this once, would it hurt to say 'yes'?
I really enjoyed the conclusion to this series and the different turn it took. Instead of being about a more political plot, the motivations of characters felt more personal. The adventure-mystery like nature of the plot was more to my tastes, and I thoroughly enjoyed reading it.
A Darkling Plain
The great Traction City of London now lies in ruins. Once, not so long ago, it hunted other cities across the vast wastes of a devastated land. Now it is a poisonous, lifeless wreck – until Tom Natsworthy and his daughter, Wren, uncover the secret hidden in its dark heart. It's a secret that could bring an end to the war once and for all. But as Tom and Wren risk their lives, time is running out. Far away, a dangerous child with a deadly secret of his own is making a journey that may lead to the destruction of the entire human race.
Honestly I didn't think much of this book and spent most of the time reading it, just trying to get through it. Character arcs felt forced and too many things were happening for me to track what was going on.
Keep the Aspidistra Flying
Gordon Comstock loathes dull, middle-class respectability and worship of money. He gives up a 'good job' in advertising to work part-time in a bookshop, giving him more time to write. But he slides instead into a self-induced poverty that destroys his creativity and his spirit. Only Rosemary, ever-faithful Rosemary, has the strength to challenge his commitment to his chosen way of life. Through the character of Gordon Comstock, Orwell reveals his own disaffection with the society he once himself renounced.
I loved this book, the nonsensical mundanity of it and the magic way in which Orwell expresses his ideas makes it a delight to read. The exploration of wealth, morals and privilege is fascinating and the personal notes make it even greys greyer in the most complimentary way.
Inside the Whale and Other Essays
George Orwell's moving description of the death of an elephant is representative of the humanitarian instincts he found it impossible to repress. In all these essays – from a journey down a coal mine to an analysis of the 'penny dreafuls' – he fulfils his role as the social conscience of his age.
The extraordinary width of his mind can be witnessed in the range of this book, which includes 'Shooting an Elephant', 'Lear, Tolstoy and the Fool', and 'England Your England'.
I didn't like this book half as much as the other one, mainly because it was Orwell talking about books that I haven't read. However if you enjoy the analytic study of books (like you find in an English Class) or have read the books in question than I can imagine that it would be quite good. I did however quite enjoy 'Boys' Weeklies'.
Antique Needlework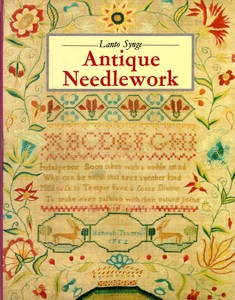 Murder Most Unladylike
When Daisy Wells and Hazel Wong set up their very own secret detective agency at Deepdean School for Girls, they struggle to find any truly exciting mysteries to investigate. (Unless you count the case of Lavinia's missing tie. Which they don't.)
Then Hazel discovers the Science Mistress, Miss Bell, lying dead in the Gym. She assumes it was a terrible accident – but when she and Daisy return five minutes later, the body has disappeared. Now Hazel and Daisy not only have a murder to solve: they have to prove one happened in the first place.
Determined to get to the bottom of the crime before the killer strikes again (and before the police can get there first, naturally), Hazel and Daisy must hunt for evidence, spy on their suspects and use all the cunning and intuition they can muster. But will they succeed? And can their friendship stand the test?
This book is great! Whilst aimed at children the plot is cleverly thought out and the characters are fascinating. I can't wait to read more in this series. Features a Chinese protagonist and some subtle LGBT representation that I think will be built on in further books.
What I'm Currently Reading
Carve the Mark
Cyra Noavek and Akos Kereseth have grown up in enemy countries locked in a long-standing fight for dominance over their shared planet. When Akos and his brother are kidnapped by the ruling Noavek family, Akos is forced to serve Cyra, the sister of a dictator who governs with violence and fear. Cyra is known for her deadly power of transferring extraordinary pain unto others with simple touch, and her tyrant brother uses her as a weapon against those who challenge him. But as Akos fights for his own survival, he recognizes that Cyra is also fighting for hers, and that her true gift—resilience—might be what saves them both.
When Akos and Cyra are caught in the middle of a raging rebellion, everything they've been led to believe about their world and themselves must be called into question. But fighting for what's right might mean betraying their countries, their families, and each other.
When the time comes, will they choose loyalty or love?